Pattern Drafting and Fitting with Alfred Bach's Basic Pattern
A few weeks ago I purchased an interesting vintage
draft-your-own dress package
on eBay, and also purchased an expansion pack of sorts that allows the seamstress to extend her basic block into FIFTEEN new dress styles, by adding collar/neckline variations. Yeah! I've been keen on getting myself set up with a basic block, but haven't found the time or energy to really develop my own sloper. Alfred Bach's set promises to "FIT ALL SIZES," including Tall, Petite, Stout, Slender; Teens, Juniors, Misses, Half Sizes, and Large Sizes.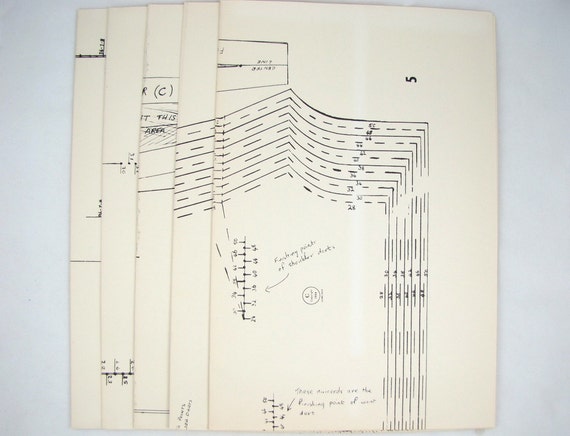 The "Pied Piper of Sewing," as he called himself, included copies of his hand-drawn patterns
Quite the promise, huh? In reality, the blocks range in size from 28" bust to 50" bust, and allows the user to grade between sizes rather easily. The insert included with the pattern block pieces was quite short, but explained a few basic mods like adjusting the waist, adjusting for broad back or forward shoulder, etc. He's also quick to note that if you want more information/guidance, then just go ahead and purchase his series of books.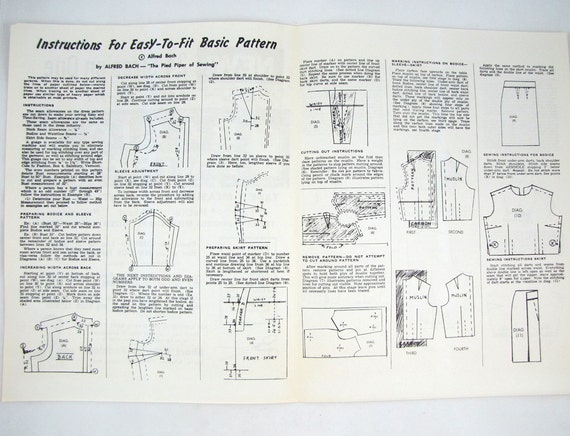 I didn't do that. Or, I should say, I haven't done it yet.

I went ahead and chose a bodice size that was close to my current measurements. At the time I started this process, my high bust measured 36" and my full bust measured about 39.5". I chose to trace the pattern in the following bust sizes (at corresponding points for that size on the bodice): 36" at neckline/shoulders, 34" through armscye, 38" at side seams, grading to size 40" at waist. I added additional room at the waist, since I am a very merry pear shape.
I marked the darts for size 38", but found the front waist darts to be over 2" too high when I sewed a muslin-- so I plan to lower them in future construction. I also plan to wear a more supportive bra. Ha!
Yeah, I need to drop those darts ASAP. Also, the side seam is not sewn here but trust me, it's going to work.
The pattern modification process for the bodice really wasn't too difficult, but I only sewed one muslin and then made more mods, so we'll see if I'm pleased with the finished product. I went ahead and cut out a full dress, since my only pain point in fitting was the armscye, and I figured I could deepen that some more if needed without much headache. I did self-draft a facing for the armscye, since the pattern was intended to have a sleeve. I had serious trouble modifying the sleeve, despite reading multiple books and the Curvy Sewing Collective guide for a large upper arm adjustment. Based on my math, I needed to add 2" but this seriously distorted the sleeve head and I felt like it was such a mess when I planned to re-draft the sleeve head like recommended. My traced original was nowhere close to fitting adjacent to the modified sleeve-- hard to explain, but whatever, it doesn't matter. I'm sure I could get it if I kept trying, but I prefer sleeveless dresses anyway, aaaaand, I don't plan to stay this size forever.
I decided my first dress would be a try at Style 14 with a vintage linen plaid. I had 4 yards of this fabric in my stash, which was just enough for a bodice, the collar, and a very full skirt. The skirt is simple a dirndl style, with 3 panels the full width of the fabric (45") that were ~32" long. It's good for me to remember that just the bodice and collar/ties for Style 14 take a full yard; this is in part because the ties are cut on the bias.

These patterns come with very few construction details. The collar packet has a booklet that includes illustrations for construction of the collar, which is useful and awesome. As illustrated, you take your bodice block and overlay the "Back Marker" and "Front Neck Marker" to modify the neckline. What you see pictured on this page is pretty much the entire construction details for the dress.
Front neck marker overlaid on bodice front
I would definitely not recommend this for a beginner, because the pattern lacks all of other construction details. I am rating this pattern as intermediate overall in difficulty, because it is a very straightforward dress. In comparison to any other tea dress I might have sewn, this is easy. In the prep and sewing department, however, I would probably rate this as difficult. The pattern requires (as part of the intended process) modification to fit the user's exact needs; it requires locating and tracing the appropriate size of collar pieces; and it requires the user to have their own knowledge about dress construction, pattern fitting, and finishing in general. Finding and tracing the collar and neckline pieces was very annoying, because of course Mr. Bach didn't put all of the corresponding pieces on one sheet-- no, I had to find them on three different sheets.
These are the collar pattern sheets. There were so many sheets to unfold in my quest for Style 14.
Because I want to really love this dress, I'm tempted to give it a full lining... but I'm also equally tempted to just get on with it and serge the edges for finishing. It's not as clean or nice, and I'm always concerned about whether I'd need a slip under a dress to prevent showing my undergarments. I love wearing a slip, but if the fabric is sheer at all I should really just line the dress. Hmmmmm. I guess we'll see where I land!
See you soon,
Amanda