Handspun: Merino/Bamboo yarn
I'M BACK! What's the occasion? I drank coffee in the evening.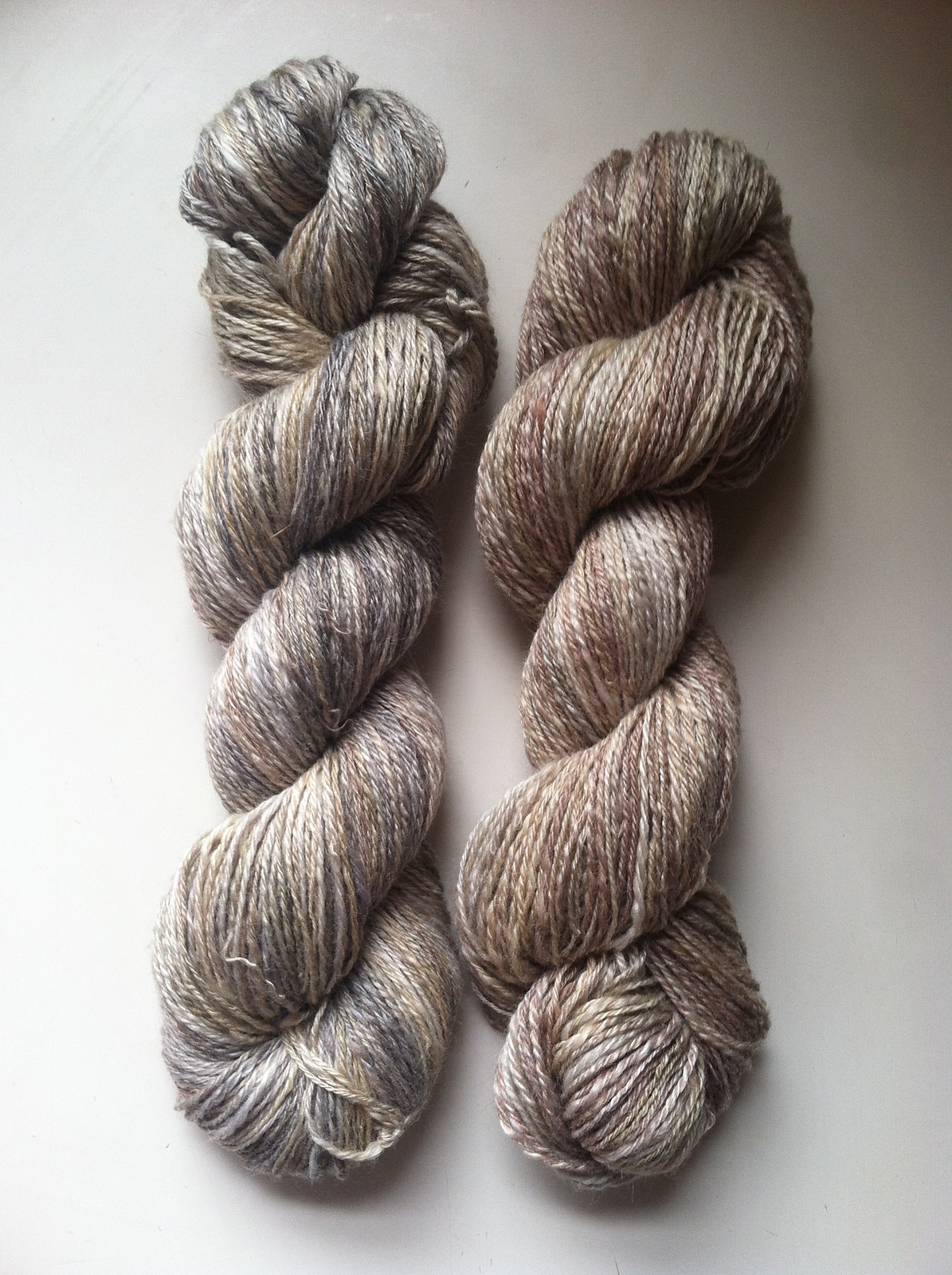 Merino / Bamboo Blend Handspun Yarn
Many, many months have passed while I've ignored this space. There were times when blogging was a major past-time for me and now it feels like a fleeting memory. I'm considering reviving the space, in large part because this is how I take notes and document my craft-- the details in what I do, the changes I consider making, the troubles I have, and the successes I celebrate. My appreciation for others' blogs continues and I read many faithfully, thankful for their insight, amused by their lives, and glad to have something to do when I have downtime (though, truthfully, my iphone has taken place of knitting in the purse and I have very mixed feelings about the amount of screen time I maintain...).
So, on that note, I've been spinning again and loving my time at the wheel. I bought this fiber eons ago-- the receipt in the original bag I've kept reads Sept 10, 2011, purchased at Fiber Gallery in Seattle when they were hosting a Black Trillium Fibres trunk show. I purchased two hand-dyed rovings, the first of which
was spun
while I was still living in Seattle and also knit shortly thereafter into
a lovely kerchief
. This was put into a plastic tote, moved from an apartment on Queen Anne in Seattle to a farm in Poulsbo, WA, then to a house on Beacon Hill, Seattle, then to Columbia City, Seattle. I packed everything into a U-Haul 2.5 years ago and it went with me to a house in SE Portland, then into a storage unit while I stayed temporarily in a studio in central SE/NE Portland, and then it arrived at my current house in SE Portland. Phew! What a travel partner.
Travel-- that's right. I spun this yarn on a binge of watching repeats of Doctor Who, and may have spilled a few tears when Donna Noble lost all of her memories of the doctor and time changed, again. Time travel, space travel, real travel, whatever. This yarn has seen it all!
Details:
4 oz fiber
60% Merino
40% Bamboo
Singles spun S-twist, then chain plied Z-twist
Singles yardage: 1195 yards
3 Ply / Chain Plied yardage: 398 yards
Knitting Weight: ~13 stitches per inch, somewhat variable
And so, here it is. I wrote a full blog post (there are many in draft form collecting dust somewhere on here...). I survived. A few thoughts I'd like to share:
1) Why do I love spinning yarn in summer and fall more than any other time of year? Spinning and knitting seem like such winter crafts to me but this summer I've had a real sewing block (though, I sewed all winter long) and want to spend lots of time on easy, mindless spinning. Maybe it's just that I can justify a TV binge during 100 degree miserable weather a bit better this way. During our heat wave(s) I realized that with the windows shut tight, drapes drawn, blinds tight, it stays a mild (eyeroll) 84 degrees inside the house and with an overhead fan I am quite (relative statement, here) comfortable sitting at my wheel, giving minimal exertion with a product to show at the end.
2) Is blogging just another form of the selfie? An ego stroke at best, or a genuine form of sharing and socialization via the internet? Whatever. At least I'm writing for fun-- a welcome change from the usual case notes and data entry at work.
3) Have you been spinning? Do you want to join me on a spinning retreat on the Oregon coast this winter? This is something I'm really, truly going to plan. I'm going to dye some yarn with lobster mushrooms I've had in the freezer too long, binge-spin some lovely yardage, and comb the shit (literally) out of some fleeces that are stored in my closet(s).
4) Let's talk about carding and combing fleeces. Do you hand card? Do you drum card? Do you comb? I have hand cards and am happy to use them for small bits of fun, but there's no way I'm going to hand card multiple fleeces, and being real... I have something like 4 full alpaca fleeces, a mohair fleece, a romney fleece, and partial other fleeces of Jacob and Romney and who knows what else. My mom owns alpacas and angora goats and I think I/We should really bite the bullet and invest in a drum carder. Do you have experience with different drum carders? What's your favorite and why? We/I want to be economical, but because I intend to spin for the rest of my life and want something durable, I feel like I'd be happier purchasing a chain-drive carder instead of band-drive. Hand crank is great. I'd love your input.
Now, for a real treat, a video of me using my hand carders for the first time in 2009. The technique is terrible, but the short hair is great. Thanks, past self!
xoxo
Your Long Lost Friend