Sewing Vintage Vogue 9103
I once made a crack to my boyfriend that the only thing from the 1970's that I love is him. This pattern made me question that assertion, but in the end it's mostly true.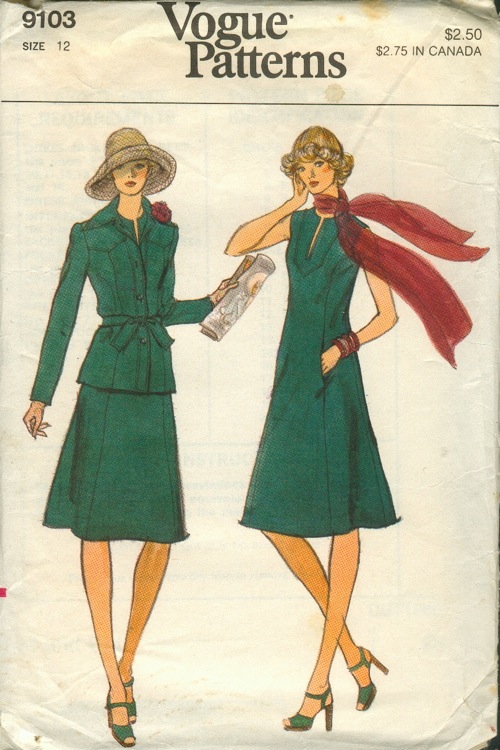 Vogue 9103
This Vogue dress has been in my stash for ages because I really admire the neckline detail. I generally think of A-line dresses as pretty flattering, and if I'd tried harder to get the proper fit it probably could have been my favorite but I JUST . DONT . LEARN. Let's talk about the pattern and finished dress first.
1. I love pockets, but these were a little narrow because of the stitching up the secret pocket in the center front panel. I'd leave the stitching out of it and have one big pocket.
2. Princess seams = awesome. Great design.
3. PLASTRON!!!!!!!
Use your favorite vintage fabric! Also, transfer the markings onto the plastron before sewing/mitering the corners. I failed, and had to patch my fabric because I sewed wrong and trimmed, then realized my pressing error. Duh.
4. Invisible zipper = yum. My favorite.
5. Armscye facing? Meh to facings. I'd probably replace it w/ a bias binding in the future.

Easing the hem.
I measured the various panels and said, "Sure, this will fit and gives me lots of ease through the hips!" I thought, "Sure, my bust is measuring pretty close to 34 (33.5") because I'm wearing my winter weight right now (nevermind this is a summer dress) so that's about right!
You know what? That secret pocket in the center front panel of the dress took out some of the measured ease because it wants ease to exist between pocket bags and front panel, you know, so your hankie isn't quit so visible... so bam. Hips = tight. I shortened the dress an inch at the waist, and cut a few inches from the hem to use yardage from my stash... but you know what? The bust tip sits a solid 1.5" below my full bust, AND it's too big. I KNOW BETTER. I've fit things properly. I know that my shoulders are narrow, my ribcage slight, that a 34" bust pattern will require grading through the areas that make it tough.... so I generally stick to the proper size for my bone structure and give myself an FBA (full bust adjustment) and grade out for my fleshy mid and lower half.

I love the blind hem presser foot.
HA. I'm laughing. I hate that I know better than to sew garments w/out proper fitting. Oh well. Onto the next project!

Me Made May 2014